Emile's Pub & Eatery
Enjoy traditional Canadian family-style dining at Emile's serving a variety of satisfying comfort foods. We look forward to seeing you there!
Hours of operation for Emile's Pub & Eatery:
Tuesday to Thursday 5pm to 9pm, Friday 4pm to 9pm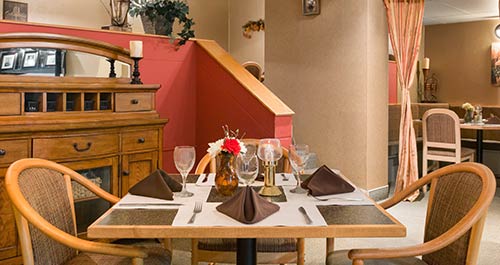 Gym (off-site)
The YMCA and Universal Health Club are within 1km from the Days Inn Stephenville
Pool (off-site within 1km of hotel)
The Regional Aquatic Centre in Stephenville is open daily for swimming. Check their website for schedule and fees.
General Information and Policies
Credit Cards accepted: Visa, American Express, MasterCard, Discover
Currency: Canadian Dollars
Guarantee: Use your credit card to book on-line
Check In Time: 2:00 pm
Check Out Time: 1:00 pm
Time Zone: Atlantic Standard Time
Other Services
ATM
Voice mail on guest room phones
Safe deposit boxes
Cribs at no charge
Dry cleaning off-site
Photocopy, courier, mail & fax services
Pets allowed with kennels (available upon request)
Video Lottery Terminal